One of the good things about the weekend is that you have more time to make a good breakfast. It had been a while since I last had pancakes and I was craving them. I had some over overripe bananas in the freezer and I though they would go nicely in the pancakes. I also had some buttermilk in the fridge so it became banana buttermilk pancakes with maple syrup. They turned out pretty good. They were nice and moist and fluffy. I enjoyed the banana flavour of the pancakes. I garnished the pancakes with slices of bananas and some pecans. They were a great way to start off a day on the weekend.
Ingredients:
1 cup all purpose flour
1 teaspoon baking powder
2 tablespoons sugar
1/4 teaspoon salt
1 cup buttermilk
1 egg
2 tablespoons unsalted butter (melted)
2 overripe bananas (mashed)
Directions:
1. Mix the flour, baking powder, sugar and salt in a large bowl.
2. Mix the buttermilk, egg, butter and bananas in another bowl.
3. Mix the wet and dry ingredients making sure to not over mix.
4. Heat a pan and melt a touch of butter in it.
5. Pour 1/4 cup of the mixture into the pan and heat until the surface starts to bubble and the bottom is golden brown, about 2-3 minutes.
6. Flip the pancake and cook the other side until the bottom is golden brown, about 1-2 minutes.
From Indonesia to Egypt, we have traveled with the
pancake
. Now let's take it into our own kitchens. Enjoy this knock-your-socks-off buttermilk pancake recipe.
Ingredients:
3 cups all-purpose flour
4 tablespoons white sugar
3 teaspoons baking powder
1 1/2 teaspoons baking soda
1 teaspoon salt
3 cups buttermilk
1/2 cup whole milk
3 eggs
---------------------
Saturday mornings, I like to play housewife. Instead of telling Carlo "make your own breakfast. You're a grown man," I get out of bed and cheerfully mix flour and baking powder together to make a weekend feast. Sometimes it's muffins, but usually it's pancakes because they come together so fast and cook quickly enough that my hunger doesn't overwhelm my good intentions. When the food is ready, we douse our pancakes in maple syrup, sprinkle a little sugar on our lattes, and curl up in armchairs with our plates on our laps. It's a good way to start a Saturday.
Last time I made these pancakes, I used whole wheat flour. This time I used all-purpose. It's good both ways, but the whole wheat does make them a bit heavier. They're very filling because of the oatmeal, which adds a rich creaminess that goes really well with tart grated Granny Smith apples.
1/2 cup flour
3/4 tsp. baking powder
1/2 tsp. salt
1 large egg, beaten
1 1/2 cups cooked oatmeal (I use instant oatmeal, but this would be great with rolled oats)
3/4 cup milk
1 Granny Smith apple, peeled and grated
unsalted butter
Preheat a skillet on medium heat.
Mix together flour, salt and baking soda. Add wet ingredients and mix gently.
Melt a generous pat of butter onto the skillet and pour batter in 1/4-1/2 cup servings onto skillet. Allow to cook until bubbles show on one side, then flip and cook on the other side until both sides are golden. Flip pancakes onto a plate, cover with maple syrup, and relax.
March 3, 2009 at 3:42 pm by
Katie Machol
Having seen tons of pictures of delicious-looking pancakes last week on my
food porn sites
, it put me in the mood to make some. I am not a fan of plain ol' regular pancakes, though, because I find them to be dry, dull, flavorless and only good as a vehicle for syrup.
While looking in my pantry for inspiration, I spotted my neglected (but not expired) box of yellow cornmeal. Ta-da! Thus, the cornmeal pancake idea was born and executed. They are a heartier, more substantial versions of a regular buttermilk pancakes, with a texture similar to buckwheat. They're also pretty filling, so a few go a long way.
I wanted to jazz them up and I spotted a Gala apple (my favorite kind) on the counter, so I decided to do a caramel apple topping. What resulted was a warm, gooey, comforting dish that sated my crave and satisfied my soul. And they weren't as sweet as one would think from the addition of the caramel apple topping. Also, as you can see from the picture, I did leave the skin on my apple on purpose — I like the texture and color it adds to the dish, and after being cooked it became much softer. Extra pancake or maple syrup is also optional, though I found it didn't need it. Enjoy!
Buttermilk Cornmeal Pancakes with Caramel Apple Topping
(makes 10 4-inch pancakes)
Cornmeal Batter (adapted from
this recipe from Cooking Books
):
1/2 cup cornmeal
1/2 cup flour
1/2 teaspoon salt
1 teaspoon baking powder
1/2 teaspoon baking soda
1 cup buttermilk
2 eggs
1/4 cup honey
1 teaspoon vanilla extract
1 tablespoon butter, melted
1. In small bowl, mix or sift together dry ingredients (cornmeal through baking soda) to remove lumps.
2. In a medium bowl, whisk together the rest of the ingredients (buttermilk through melted butter). Mix the dry ingredients into the wet mixture in two parts by hand, completely incorporating the dry into the wet mix each time.
3. Heat a medium nonstick pan over medium heat. With each addition of batter, spray it with pan spray (or you can cook the pancakes in a small amount of melted butter or vegetable oil).
4. Pour 1/4 of batter for each pancake into the pan. Cook 2-3 minutes per side, flipping when bubbles start to appear. Transfer to an oven safe dish and keep warm in a 200 degree oven while you prepare the caramel apple topping.
Caramel Apple Topping:
2 Gala apples, cored and sliced (peeling optional)
4 tablespoons butter
4 tablespoons brown sugar
1 teaspoon cinnamon
1. Heat a medium pan over medium heat. Add the butter and allow to completely melt.
2. When the butter starts to bubble, add the apples and cook for about a minute, then flip the pieces over to cook the other sides.
3. Add the brown sugar and cinnamon and stir constantly until the sugar has completely dissovled. Let the mixture cook for another two minutes or so, until it starts to thicken to a caramel-like consistency.
4. Serve immediately, spooned over the cornmeal pancakes.
-------------------
To participate in this fun event hosted the third Wednesday of each month, each entry must have a Potato Ho name. Since this is my first time to submit an entry, I'm making a big deal about announcing my Potato Ho name!
Drum roll, please… My Potato Ho name is Madame Potato Ho Frosty Gay.
(And no, I didn't just pull that out of a hat. There is a method to the madness.)
You can read all the rules about this monthly blogging event on
Potato Ho Down
or on
Noble Pig
.
Now, for Madame Potato Ho Frosty Gay's recipe.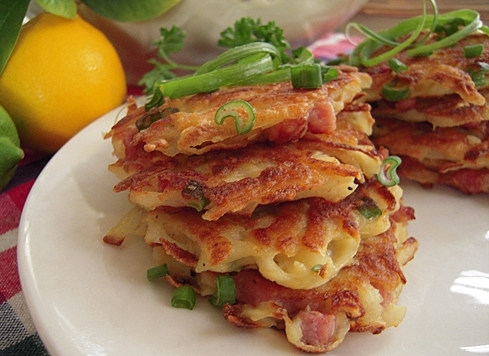 Madame Potato Ho Frosty Gay Ham and Potato Pancakes
3/4 pound Yukon gold potatoes, peeled, grated, and squeezed dry (about 2 cups)
1/4 cup finely chopped green onions, green parts only
2 eggs, beaten
1 cup finely chopped cooked ham (4 -5 ounces)
1/4 cup all-purpose flour
1/4 t. salt
1/4 t. pepper
2 -3 T. vegetable oil
First, combine grated potatoes, green onions, and eggs in large bowl, mix well. Add ham, flour, salt, and pepper; mix well.
Heat 2 T. oil in large heavy bottomed skillet. Drop batter by heaping tablespoonfuls and press with back of spoon to flatten. Cook over medium-high heat 2 to 3 minutes per side.
Remove to paper towels to drain. Add remaining 1 T. of oil, if necessary, to cook remaining batter. Serve pancakes warm.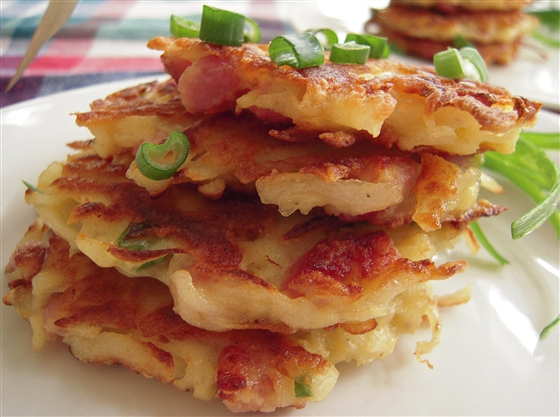 This is an easy recipe and the pancakes turned out really nice. It's a great little appetizer to serve at your St. Patrick's Day Party. And, my family loved them for breakfast. I made SirHoney one the size of the skillet!
---------------------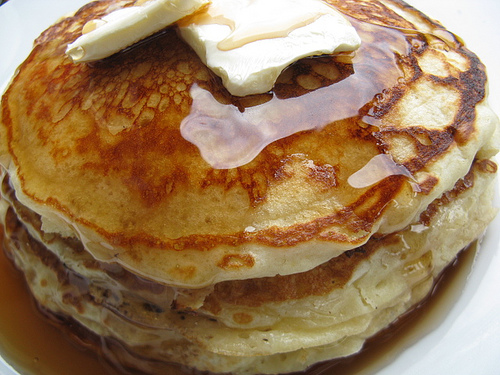 Forget about the box mixes, be adventurous and make homemade buttermilk pancakes! There are literally tons of different ways to make pancakes but you can't go wrong with the classic buttermilk. Buttermilk pancakes are some of the lightest and fluffiest pancakes you will ever eat and they are so delicious. If you have never cooked pancakes before don't let the process intimidate you, making pancakes are very easy and in no time at all you will be a pro at it. You want the pancakes to cook rather slowly so they don't burn (black pancakes don't taste very good
J
) and so they are cooked all the way through without burning the outside. The process is simple, basically mix the batter, pour and flip. If you're look for a fast and delicious breakfast this recipe is for you, and after all, what would breakfast be without pancakes?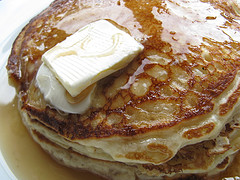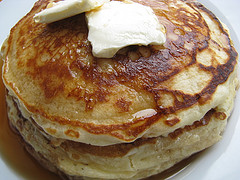 Ingredients:
2 eggs
2 cups flour
2 tablespoons sugar
2 teaspoons baking powder
1 teaspoon baking soda
1 teaspoon salt
2 cups buttermilk
4 tablespoons butter
½ teaspoons vanilla extract
oil or cooking spray (for cooking)
Cooking Instructions: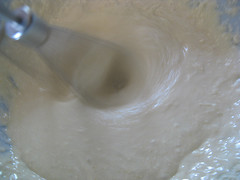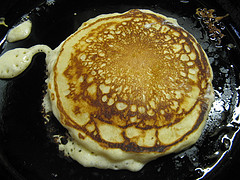 Step 1: In a large bowl beat eggs. Add buttermilk, butter and vanilla and mix well. Add flour, sugar, baking powder, baking soda, and salt. Mix well until smooth and let batter set for a few minutes.
Step 2: Heat griddle or pan over medium heat. Brush lightly with oil or spray with cooking spray. You can test to see if the pan is hot enough by adding a few drops of water, if

or when the drops start to dance its hot enough.


Step 3: Pour ¼ cup of batter onto the griddle. Cook on the first side until bubbles that form start to pop. You can also gently lift up the pancake to make sure the bottom is not overcooking, if it is the pan may be too hot and you will need to adjust the heat. Flip the pancake over with a spatula and cook until golden brown. Repeat until all the batter is gone.
On (Fat) Tuesday, February 24th,
IHOP
is offering a FREE short stack of buttermilk pancakes between 7am - 10pm. Full details, including their charitable outreach,
are here
.
That said, we have no patience and want a hot stack of pancakes this weekend.
Guaranteed to wow your date on the morning after
(and handy for filling awkward stretches of silence).
Food2 Favorite Pancakes
Ingredients
1 1/2 cups all-purpose flour
3 tablespoons sugar
1 tablespoon baking powder
1/4 teaspoon salt
1/8 teaspoon nutmeg freshly ground if possible
2 large eggs, at room temperature
1 1/4 cups milk, at room temperature
1/2 teaspoon vanilla extract
3 tablespoons unsalted butter, plus more as needed
Directions:1)
In a large bowl, whisk together the flour, sugar, baking powder, salt, and nutmeg.
(
No whisk? Go with a fork
.)
2) In another bowl, beat the eggs and then whisk in the milk and vanilla.
3) Melt the butter in a large skillet (cast iron is ideal) or on a griddle over medium heat.
4) Whisk the butter into the milk mix. Add the wet ingredients to the flour mixture, and whisk until a thick batter just forms.
5) Still at medium heat, ladle a 1/4 cup of the batter onto the skillet to make the pancake. Make 1 or 2 more, taking care to keep them evenly spaced apart. Cook, until bubbles break the surface of the pancakes, and the undersides are golden brown (about 2 minutes).
6) Flip with a spatula and cook about 1 minute more on the second side.
7) Serve immediately or cover with foil to keep warm.
These go from craving to table in about 20 minutes.
ADD2s:
Add in your favorite sliced fruit (bananas, strawberries, blueberries), mini-chocolate chips or chopped nuts. Throw it in the batter or if you don't want blue pancakes, add as bubbles start to form but before you flip. Just keep an eye out so your add-in's don't burn.
Powdered sugar, butter, ice cream, warmed fruit compote from a can, sliced fruit, chopped nuts, whipped cream, chocolate syrup are all great topping ideas.
Or make a sandwich by placing bacon and eggs or ham and cheese between two pancakes.